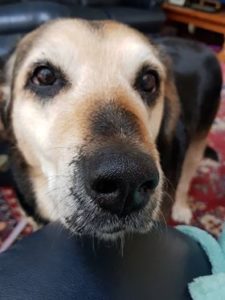 It's exactly a year since we found our beautiful Kate via your FB page.
We had been devastated when our treasured Border Collie died after 15 years, but realised we still had love to give and a work colleague suggested a retired working dog.
We posted a bit about ourselves and Tamara responded about Kate, who has worked for over a decade but then just got tired.
We met Kate and it was love at first sight. a week later, during her vet check, we were told she has cancer and would probably only have 2 – 3 months so we were determined to fill that time with love and attention. it must have worked, a year later she clearly isn't 100% and has arthritis but she is totally spoiled and loved to bits.
Our princess has brought us so much joy, she is the most loving, gentle girl and holds a special place in our Hearts. Thanks Tamara and 'Retired working dog adoption NZ' for bringing us together.